Turbo Light
Colors
Turbo Light
Socket Parts
Socket
Callar
Gasket
Mounting Nut
Compression Nut

TE-40 Turbo Light Cabochon
Turbolite, The leading brand of Cabochon's at carnivals and Amusement Parks everywhere. You will notice these beautiful light fixtures adorned on concession trailers, ticket boxes, sign marquees, amusement rides, almost everywhere on the midway. The Turbolite TE-40 uses a T-5.5 Turbo Light Bulb and is available in 9 Decorative colors.

Turbo offers you three styles to chose from The TE-40, TL-47 and the TL-67 series. The TE40 base screws snugly on to the socket and interchange perfectly with the starlight brand Cabochon "base to socket only"

Add some flash or special effects with one of our solid state or mechanical chasing light controllers.
| | | |
| --- | --- | --- |
| | | |
| TE-40 Red Cap | TE-40 Blue Cap | TE-40 Yellow Cap |
| | | |
| TE-40 Red Base | TE-40 Blue Base | TE-40 Yellow Base |
| | | |
| --- | --- | --- |
| | | |
| TE-40 Purple Cap | TE-40 Orange Cap | TE-40 Green Cap |
| | | |
| TE-40 Purple Base | TE-40 Orange Base | TE-40 Green Base |
| | | |
| --- | --- | --- |
| | | |
| TE-40 Clear Cap | TE-40 Fuchsia Cap | TE-40 White Cap |
| | | |
| TE-40 Clear Base | TE-40 Fuchsia Base | TE-40 White Base |
Special Internet Pricing
Mix or match colors same low price

| Item | 1-99 | 100-299 | 300+ | Buy |
| --- | --- | --- | --- | --- |
| TE-40 Turbolite Cap | .60¢ | .45¢ | .40¢ | Buy |
| TE-40 Turbolite Base | .75¢ | .60¢ | .55¢ | Buy |
| TE-40 Turbolite Socket | 1.50 | 1.25 | 1.10 | Buy |
| TE-40 Turbolite Gasket | .20¢ | .15¢ | .15¢ | Buy |
| TE-40 Turbolite Compression Nut | .35¢ | .25¢ | .20¢ | Buy |
| TE-40 Turbolite Socket Parts Complete | 2.05 | 1.45 | 1.35 | Buy |
| TE-40 Turbolite Complete Unit | 3.40 | 2.30 | 2.10 | Buy |
Related Turbo Light Products

Cap

Cap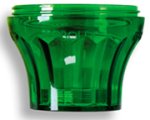 Base


T 5.5 Bulb


Gasket


Socket


Compression Nut